Five years ago, Jesus came to me in the most dramatic way and captured my heart. He asked me to be committed to come away with Him for a daily quiet time, and each time I met with Jesus He was quick to draw me close.
During those first few months I was surprised to find that Jesus was adorable, funny, and delightfully sweet. Even more astounding was the discovery that the more time I made for Jesus the more time He made for me; and the deeper we went.
During these times I learned, first hand, about Revelation 3:20-4:2.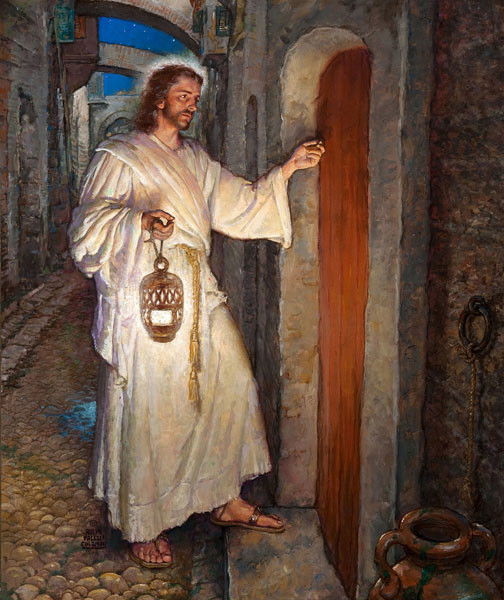 (Jesus said,) "Here I am! I stand at the door and knock. If anyone hears my voice and opens the door, I will come in and eat with that person, and they with me.
To the one who is victorious, I will give the right to sit with me on my throne, just as I was victorious and sat down with my Father on his throne. Whoever has ears let them hear what the Spirit says to the churches."
(John then wrote,) "After this I looked, and there before me was a door standing open in heaven. And the voice I had first heard speaking to me like a trumpet said, 'Come up here, and I will show you what must take place after this.' At once I was caught up in the spirit, and there before me was a throne in heaven with someone sitting on it."
Jesus followed the order of these scriptures as He first asked to come into the rooms of my heart. When I opened my heart to Him I was caught up in a vision where Jesus and I were standing in a dimly lit hallway with lots of doors. I knew we were in my heart. These "heart" visions continued for months as Jesus dealt with my brokenness and my lack of faith.
Also during this time Jesus taught me how he wanted me to deal with the enemy as there were many attacks and distractions during our times together. I have written a book about this first year, and I plan to include in my future posts stories from my book, along with more explanations.
In the beginning it was hard for me to accept all that I was seeing and hearing and at times I grew worried that I was being deceived. When I told Jesus my concerns, He took me to John 16:13-15.
"But when he, the Spirit of truth comes, he will guide you into all the truth. He will not speak on his own; he will speak only what he hears, and he will tell you what is yet to come. He will glorify me because it is from me that he will receive what he will make known to you. All that belongs to the Father is mine. That is why I said the Spirit will receive from me what he will make known to you."
As my faith grew so did my times with Jesus, and then one day Jesus asked me to "come up here" and like John my spirit was drawn up into the heavens. The constant attacks became distant as long as I stayed in my heavenly place. It was like discovering a secret garden where I could commune with Jesus unhindered. The joy of these times cannot be fully described, and I have found they are proportional to my willingness to surrender everything to Jesus: The more I hang onto the things of this earth the less I can see there.
It's has been hard to let go of everything in this world, and because of this I have often failed to treasure Jesus and these precious moments with Him in the heavens. But to my surprise Jesus has graciously allowed me to continue to have these special times with Him. Once when I asked Him why he didn't give up on me, he led me to 2 Timothy 2:13.
"If we are faithless, he remains faithful, for He cannot deny Himself."
Over the years Jesus has asked me to share some of the stories and revelations He has given me, and now I'm finally ready to do that. Yet, I must confess that I'm still a bit hesitant as it's impossible for me to describe perfectly those things I have seen and experienced in the supernatural realm. So I humbly ask that as you read my blog and my books, you would please keep what Paul wrote in 1 Corinthians 13:12 (AMP) in mind:
"For now (in this time of imperfection) we see in a mirror dimly (a blurred reflection, a riddle, an enigma), but then (when the time of perfection comes, we will see reality) face to face. Now I know in part (just in fragments), but then I will know fully, just as I have been fully known (by God)."
I want to thank you for reading my first blog. I plan to make a weekly posting. As you return, I hope this site blesses you and inspires you to see our winsome, and humble King in a new way. God Bless.